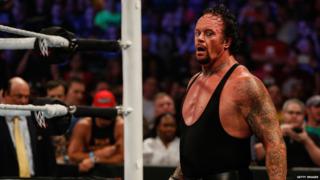 Getty Images
Wrestling superstar The Undertaker has retired from WWE.
At the end of Sunday night's WrestleMania 33, having lost to Roman Reigns, he dropped his gloves, hat and trenchcoat in the middle of the ring and left.
The 52-year-old, whose real name is Mark William Calaway, leaves the sport after more than 26 years of Tombstones and Chokeslams.
The star made his WWE debut at Survivor Series back in 1990.
Throughout his career, the Undertaker's been a multiple world heavyweight champion, a six-time tag team titleholder and a Royal Rumble winner.
Some of today's biggest wrestlers - including Bayley, the Bella twins and Austin Aries - paid tribute to The Undertaker on social media saying #ThankYouTaker.