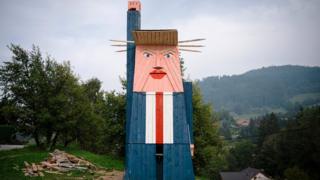 JURE MAKOVEC/AFP/Getty Images
A new sculpture of US President Donald Trump has been built in Slovenia - where his wife Melania is from.
The painted wooden structure has been put up in a village there.
The statue of the president is eight metres tall and has been designed by local artist Tomaz Schlegl.
Trump's statue has triggered a mixed reaction though, with some people describing it as "ugly".
It's not the first time that celeb-inspired art has made headlines.
Take a look at some of these statues below, then head to the comments and let us know what you think of them!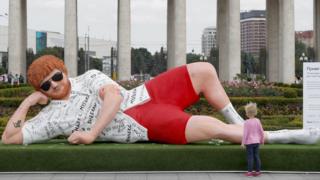 European Photopress Agency
A statue of Ed Sheeran was put up in Moscow in Russia, ahead of the star's first concert in the country.
The five-metre figure appeared at the entrance of Moscow's Gorky Park ahead of his gig on Friday 19 July.
It was the singer's first concert in Russia and took place at the Otkritie Arena stadium as part of his ÷ (Divide) tour.
One fan commented on social media: "Has any other country done this to celebrate an Ed Sheeran concert? Because I would love a whole army of these things!"
A statue of US First Lady Melania Trump was unveiled in her hometown of Sevnica in Slovenia where it caused quite a stir - but not quite for the right reasons.
US artist Brad Downey paid a local chainsaw expert Ales Zupevc to carve the statue from a tree trunk.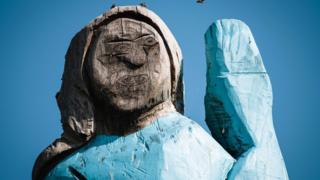 AFP
In an interview with news agency AFP, Brad said: "I can understand why people might think that this falls short as a description of her physical appearance," but the artist insisted he found the result "absolutely beautiful".
It has been reported that the statue isn't meant to be taken completely seriously.
But some residents of Sevnica have said the piece is "a disgrace", a "Smurfette", and that "it doesn't look anything like Melania".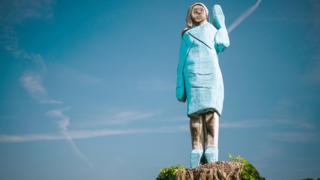 AFP/Getty Images
Katarina, 66, told AFP news agency it was a "good idea" to have the artwork, saying that: "Melania is a Slovenian hero, she's made it to the top in the US."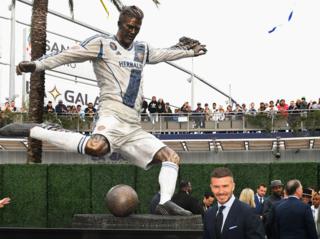 Getty Images
A statue of David Beckham was unveiled in Los Angeles in March 2019.
US team LA Galaxy displayed it outside their stadium in honour of the player's five seasons at the club.
Statues like this aren't common in the MLS - the US equivalent of the Premier League - so it was kind of a big deal.
While you might be able to tell that it's David from the face, it looks to us as though David has a few extra arms..! What do you think of it?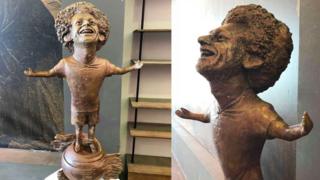 Unknown
This statue of Liverpool forward Mohamed Salah was unveiled in his home country of Egypt.
The statue shows Salah in his signature celebration pose with his arms outstretched to the crowd, but many felt it didn't quite hit the mark and looks absolutely nothing like him. Oh dear!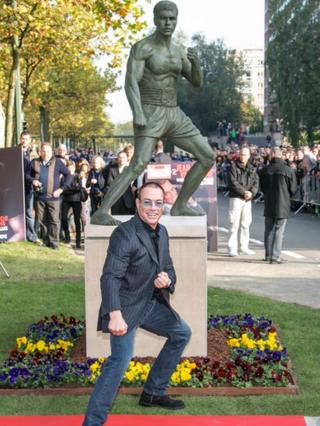 AFP
Action movie legend Jean Claude Van Damme was honoured with this bronze version of himself back in 2012.
Jean Claude - aka 'The Muscles from Brussels' - and more than 2,000 of his fans were present for the unveiling in Anderlecht, Belgium.
The Kung Fu Panda 2 star was delighted with the artwork, despite it bearing very little resemblance to him.
Van Damme said the statue "represented the dream of a Brussels ketje (kid)" - well, as long as he's happy!
This one needs no introduction.
The infamous Ronaldo statue was revealed in 2017 at a ceremony to name an airport after him on the Portuguese island of Madeira.
Do you remember Chelsea's star midfielder Michael Essien?
The Ghana player made 256 appearances at Stamford Bridge between 2005 and 2014, helping the Blues to win nine trophies, including two Premier League titles.
At the start of 2018, a new statue of him caused quite the stir.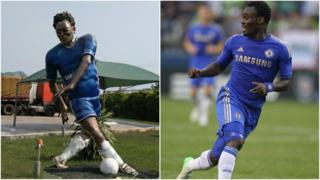 PA/Getty images
Shown in Chelsea's blue home strip, Essien looks all out of proportion and more like he's falling over than actually kicking a ball.
Probably not the look a football superstar is going for...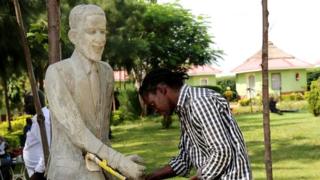 Getty Images
It would appear that even being the most powerful man in the world doesn't guarantee you a realistic sculpture.
This clay version of former US President Barack Obama in Kogelo, Kenya was designed especially for his visit to his ancestral home in Kenya's Siaya County.
Hopefully Michelle was spared the same 'honour'!
Yet another sporting legend who has been ridiculed by a statue is someone who many football writers, players and fans think is one of the greatest players of all time. He was in fact joint Fifa Player of the 20th Century with Brazilian great Pele.
That's right - even Argentinean football legend Diego Maradona isn't safe from a dodgy statue.
This 12-foot-high statue of him holding the 1986 World Cup is meant to show him when he was the 25-year-old captain and led Argentina to victory in Mexico.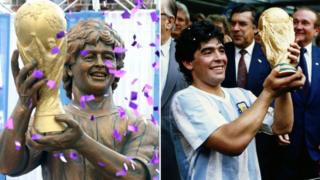 EPA/Getty Images
But some people have said they think it looks more like somebody's grandma. Probably not quite what the artist was going for!
Maradona unveiled the statue himself but he didn't say what he thought of it. What do you reckon?!
You can see who this statue is meant to be - he's standing right beside it - but we're not sure we'd have known without the clue!
Would you know who this statue was meant to be?!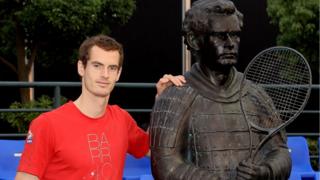 Getty Images
The statue is of the tennis ace dressed as a Chinese warrior ahead of the Shanghai Masters in 2011.
But some people thought the face looked less like Andy and more like former Manchester United manager Jose Mourinho.
The multi-armed statue was not the only time that David Beckham has been immortalised in this way.
He's known for many things in addition to his glittering football career. For one, he has done lots of modelling, which has often featured him parading around in his underwear.
So as part of an advertising campaign, a silver statue of the former England football captain in his underpants was put on show in New York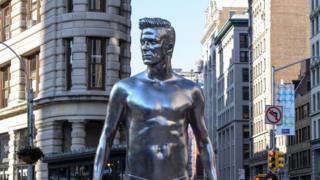 Getty Images
It was supposed to be a clever joke but in the end most people were laughing at it rather than laughing with it.
We wonder if David himself saw the funny side...
The football superstars with shocking statues just keep on coming.
This time, it's Zinedine Zidane - a true sporting legend who won the Champions League with Real Madrid, the World Cup in 1998 and Euro 2000 with France. He also won the World Player of the Year Award three times and has managed Read Madrid to three Champion's League wins!
But this statue shows the former France captain during one of his worst moments - when he was sent off in the World Cup Final in 2006 against Italy.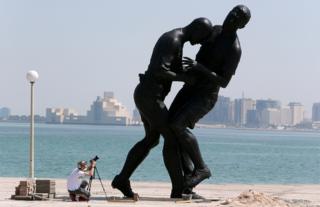 Getty Images
He butted Italy defender Marco Materazzi in the chest and was given a red card.
Would you really want this immortalised in a statue? Well, too late now!