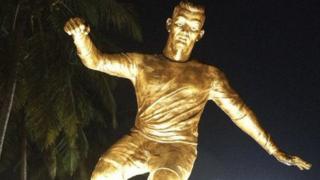 @MichaelLobo76
Another statue of Cristiano Ronaldo has put him back in the headlines.
This time a newly unveiled statue of the Portuguese football star is dividing opinion in India.
Portugal is a popular team in the state of Goa, which has strong links to Portugal and many locals have lived in Portugal or have family there.
The statue weighs around 410 kgs and the people behind it say it aims to motivate and inspire young people towards sports and following their dreams.
However not everyone is happy with the towering brass statue. Critics say local football legends should have been honoured, especially since several past and present members of India's national team are Goan.
It's not the first time that celeb-inspired art has made headlines.
Take a look at some of these statues below, then head to the comments and let us know what you think of them!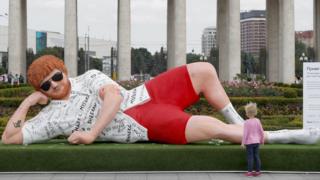 European Photopress Agency
A statue of Ed Sheeran was put up in Moscow in Russia , ahead of the star's first concert in the country.
The five-metre figure appeared at the entrance of Moscow's Gorky Park as as part of his ÷ (Divide) tour in 2019.
One fan commented on social media: "Has any other country done this to celebrate an Ed Sheeran concert? Because I would love a whole army of these things!"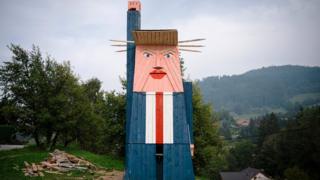 JURE MAKOVEC/AFP/Getty Images
This sculpture of US President Donald Trump has been built in Slovenia - where his wife Melania is from.
The painted wooden structure has been put up in a village there. It's eight metres tall and has been designed by local artist Tomaz Schlegl.
Trump's statue triggered a mixed reaction though, with some people describing it as "ugly".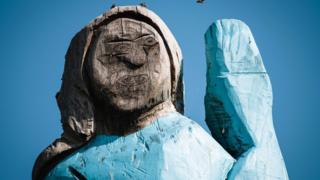 AFP
It joins the statue of his wife and former US First Lady Melania Trump in her hometown of Sevnica in Slovenia where it caused quite a stir - but again not really for the right reasons.
US artist Brad Downey paid a local chainsaw expert Ales Zupevc to carve the statue from a tree trunk.
But some residents of Sevnica have said the piece is "a disgrace", a "Smurfette", and that "it doesn't look anything like Melania".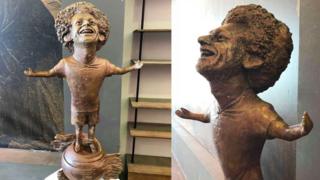 Unknown
This statue of Liverpool forward Mohamed Salah was unveiled in his home country of Egypt.
The statue shows Salah in his signature celebration pose with his arms outstretched to the crowd, but many felt it didn't quite hit the mark and looks absolutely nothing like him. Oh dear!
Cristiano Ronaldo, again...
This one needs no introduction.
The infamous Ronaldo statue was revealed in 2017 at a ceremony to name an airport after him on the Portuguese island of Madeira.
It quickly got replaced but we're not convinced the new one was THAT much better tbh.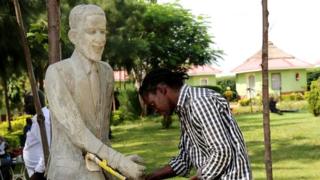 Getty Images
Now it's Mr Obama's turn to find out that being the most powerful man in the world doesn't guarantee you a realistic sculpture.
This clay version of former US President Barack Obama in Kogelo, Kenya was designed especially for his visit to his Kenya's Siaya County.
Hopefully Michelle was spared the same 'honour'!
You can see who this statue is meant to be - he's standing right beside it - but we're not sure we'd have known without the clue!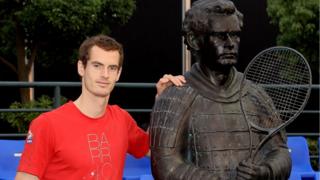 Getty Images
Would you know who this statue was supposed to look like?
The statue is of the tennis ace dressed as a Chinese warrior ahead of the Shanghai Masters in 2011.
But some people thought the face looked less like Andy and more like former Manchester United and Spurs manager Jose Mourinho.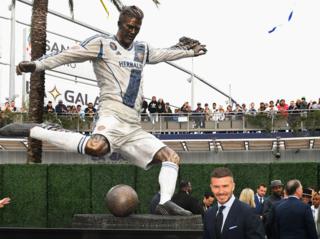 Getty Images
Like Ronaldo, Mr Beckham has had a few unusual, erm... tributes.
This one was unveiled in Los Angeles in March 2019.
US team LA Galaxy displayed it outside their stadium in honour of the player's five seasons at the club.
While you might be able to tell that it's David from the face, it looks to us as though David has a few extra arms..!
The multi-armed statue was not the only time that David Beckham has been immortalised in this way.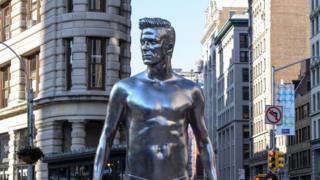 Getty Images
He's known for many things in addition to his glittering football career. For one, he has done lots of modelling, which has often featured him parading around in his underwear.
So as part of an advertising campaign, a silver statue of the former England football captain in his underpants was put on show in New York
It was supposed to be a clever joke but in the end most people were laughing at it rather than laughing with it.
We wonder if David himself saw the funny side...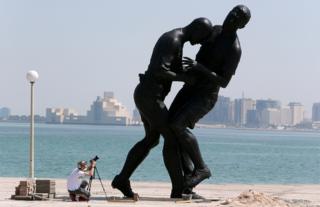 Getty Images
The football superstars with shocking statues just keep on coming.
This time, it's Zinedine Zidane - a true sporting legend who won the Champions League with Real Madrid, the World Cup in 1998 and Euro 2000 with France. He also won the World Player of the Year Award three times and has managed Read Madrid to three Champion's League wins!
But this statue shows the former France captain during one of his worst moments - when he was sent off in the World Cup Final in 2006 against Italy.
He butted Italy defender Marco Materazzi in the chest and was given a red card.
Would you really want this immortalised in a statue? Well, too late now!