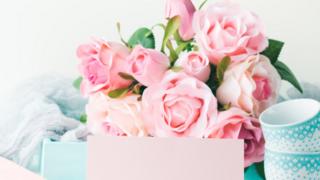 Getty Images
It's Mother's Day, also known as Mothering Sunday, and Newsround wanted to know what you were doing to mark the special occasion.
Did you make something special yourself or were you doing extra chores around the house?
Were you doing something for your grandma, step-mum, aunt or another special woman in your life?
I woke this morning and I have made breakfast for my mum and gave her a card. That made her feel special and in the evening we are going to have a family meal. Love you mum!
Minahel, 11, Birmingham
I'm letting my mum rest and I gave her a card I made at school and a cuddly Smurf.
Milano, 8, London
I made my mum breakfast, I wrote a poem about her and made a card for her.
Jack
Today I made my mum breakfast in bed and I got her some Maltesers! Yum.
Rosey, 11, Cambridge
I'm taking my mum to see the new Beauty and the Beast.
Emily, 10, Manchester
I'm taking my mum out for a nice meal.
Aqil, 14, London
We made our mum breakfast in bed and gave her our cards we made, and now we are out walking in the sunshine.
Ava and Lexie, 8, Aberdeenshire
I made my mum breakfast in bed and I bought her a hanging basket with pansies in it and a cake.
Lucy, 9, Bristol
We are taking our mum to dinner and our nan, grandpa, dad and cousin are going to be there.
Liv and Layla, 12 and 10, Lincolnshire
This page is now closed. Thanks for sending your comments.