Today is Red Nose Day!
People all over the UK - including lots of celebrities - will be putting on their red noses, wearing costumes and doing silly things, all to raise money for Comic Relief.
We want to know how YOU will be marking Red Nose Day!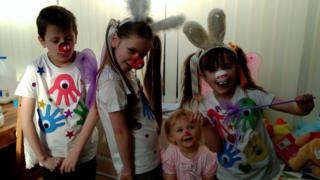 Sara Dawn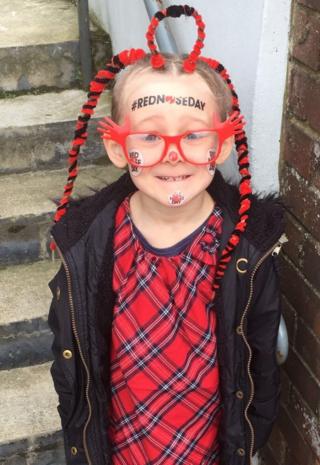 Sylvia Hall
Izzy, 8, Reading
I have now made another £50 today selling bookmarks for Red Nose Day which takes my total up to £90.
Class 2KK, Weston-super-Mare
In our school we have bee dressing up in red for Red Nose Day. We've already raised £564, people have worn red noses, red glasses, and even painted our faces or sprayed our hair red. Our school hall was full of red this morning! We've had a great day and we're going to tell our favourite jokes this afternoon.
Orla, Year 7, Oxford
At my school, we are doing a wear your own clothes day with something red and we can buy donuts and we can pay money to vote which teacher does a rap battle and which teacher gets gunged.
Izzy, 8, Reading
I have made bookmarks to sell to fundraise for Red Nose Day. I have raised £40 so far. I am also dancing in my school's Red Nose Day show.
Castle High school, Dudley
Castle High in Dudley are gunging the top 10 teachers who have been voted by students at the school.
Jessica, 16, London
My school are having an own clothes day. We have to wear something red for one pound.
This page is now closed. Thanks for your comments!