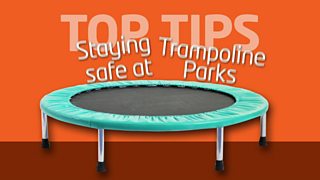 Tips for staying safe at trampoline parks
Trampoline parks are all over the UK now.
Four years ago there were just three and now there are more than 200.
But the number of people being injured at them has also gone up.
There were almost 1200 incidents in England last year.
That means on average ambulance crews are called out to them three times a day.
Staff at Sheffield Children's Hospital have also been looking at the injuries of kids hurt at these parks.
They've found that they're more like to suffer a broken bone than those hurt on a trampoline at home.
Some of the parks' owners are now helping to come up with a new set of safety guidelines.
Peter Brown is chair of the International Association of Trampoline Parks, which sets rules on health and safety at trampoline parks.
Here's some of his top tips for staying safe.