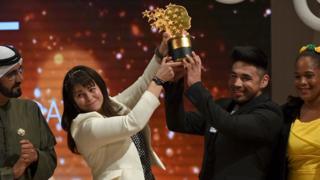 AP
Mrs MacDonnell from Quebec in Canada has just been named the best teacher in the world!
Around 200,000 teachers were nominated for the award, and the winner was announced by a French astronaut on the International Space Station.
Mrs MacDonnell works with students in a remote village in north Canada.
As well as teaching the students, she's also set up a fitness centre and a community kitchen in the village.
There are loads of amazing teachers out there... what do you think makes them great?
If they are not strict they are amazing.
Lucas, 7, Devon
What makes a brilliant teacher is the way that they teach and whether they are strict or not.
Jessica, 16, London
This page is now closed. Thanks for your comments!