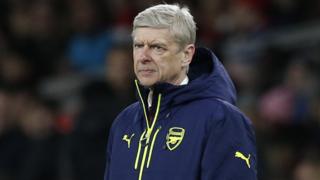 AFP
It's safe to say Arsenal are on a pretty bad run.
They lost 3-1 to West Brom on Saturday, dropping them 19 points behind league leaders Chelsea.
They also crashed out of the Champions League losing 10-2 on aggregate to Bayern Munich... that's right, 10-2!
The last time they won the league was in 2004 and they have never won the Champions League under Wenger.
Now many Arsenal fans think it's time for a change and they are calling for him to leave the club.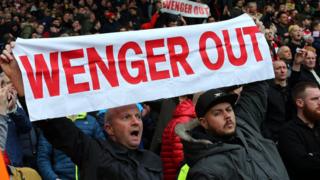 EPA
But what do you think ?
Does a man who's won Arsenal 9 major trophies and who keeps getting them Champions League qualification really deserve to go ?
Let us know your thoughts

Thanks for your comments, this page is now closed.
Your Comments
I think Arsène Wenger should stay because he has managed them for 20 years and Arsenal have always finished in the top four under him.
Max, 11, Kent
I think he should stop being manager but he did help them win a lot so he could be Arsenal's chairman.
Isabel, 10, Kent
I think that Arsène Wenger should leave Arsenal now, or Arsenal might not be able to qualify for the Champions League next season.
Alisha, 12, West Sussex