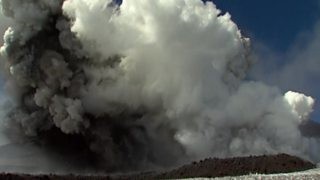 BBC team caught in Mount Etna eruption
The Mount Etna volcano in Italy has erupted.
A BBC team and some tourists were on the mountain when the explosion happened.
BBC science reporter Rebecca Morelle described the experience of "Running down a mountain pelted by rocks, dodging burning boulders and boiling steam."
Mount Etna is one of the most active volcanoes in the world, it's been erupting for the last three weeks.
Mount Etna erupts a few times a year.