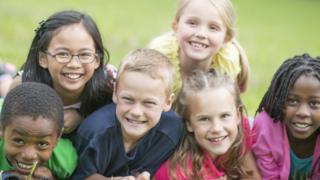 FatCamera
Students at a school in Florida have come up with a great way to help new people make friends.
They've started a "We Dine Together club" which tries to encourage kids who are sitting alone at lunch to speak to others from the group.
The organiser Denis, who started the club, came to America from Haiti when he was about seven-years-old.
When he arrived at his new school, he said he felt lonely especially during lunch breaks.
Now Denis has made lots of friends, but he wanted to make sure other students don't feel the same way he did when he first started to school.
So we want to hear from you... what kid of things have you done to help welcome a new student into your school?

This chat page is now closed.
You must ask your parent, teacher or guardian for permission before you send us a comment.
We may show your comment on our website or in our TV bulletins. We'll show your first name and which town you're from - but we won't use your details for anything else.