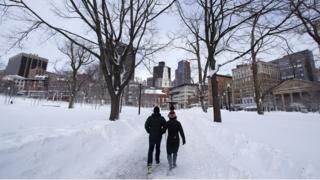 Charles Krupa
A huge snow storm called Storm Stella has hit the East coast of America, with a state of emergency being called in several states.
People have been asked to stay in their homes.
Thousands of flights have been cancelled.
Emergency services and snow ploughs have been working around the clock to clear snow from the streets.
Take a look at Storm Stella in numbers.
Even schools have had to close because of the bad weather leaving thousands of kids to enjoy the snow.
So what are children in New York doing with their Snow day?
Six year old Markie who lives there sent us this...