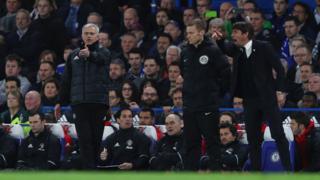 Getty Images
Chelsea boss Antonio Conte and Manchester United manager Jose Mourinho argued during their match last night.
The teams came head-to-head in the FA Cup quarter-final, with Chelsea winning the match 1-0.
The action wasn't all on the pitch though.
Chelsea manager Antonio Conte and Mourinho argued throughout the game, and had to be separated by the assistant referee at one point.
Mourinho does, of course, have past history with Chelsea having been sacked by the club back in December 2015.
He started his new job with United in May 2016.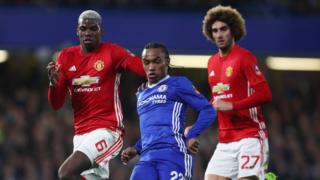 Getty Images
N'Golo Kante scored the only goal in the game.
The victory means the Blues could still win the double of the league and FA Cup.
The argument between the two bosses flared when United midfielder Ander Herrera was sent off for two yellow cards, leaving United to play for almost an hour with 10 men.
Chelsea will now face Tottenham in the semi-final.