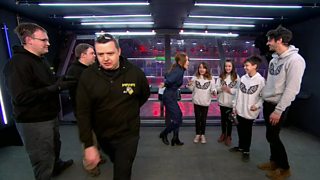 'Sore loser' storms off Robot Wars
This was the moment that a team captain walked off the set of Robot Wars, after hearing that his team had been defeated by Team Cherub.
The victors - Team Cherub - made it through to the final after a tight battle, which came down to a judges' decision.
The family team are made up of Sarah (captain) aged 12 and Toby (driver) aged 13, joined by Rosie aged 12, and Mark aged 26.
Team Behemoth, who lost the round, are one of the most experienced teams in the competition, and have been known for having bad luck on the show.
The clip has been shared lots online, with people saying it looks like he was upset to be beaten by children.
But Ant explained afterwards that he had walked out because he was annoyed about decisions his team had made earlier to change the robot's design which he thought caused it to lose.
Some people have said that Captain Ant's reaction to the news was childish, but Robot Wars' official twitter has defended him, saying that he was just showing his "passion and care".