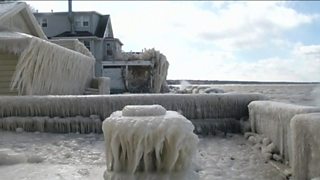 House becomes giant icicle
A house near a lake in New York in America became covered in ice.
The strong winds and low temperatures caused water from Lake Ontario to blow over the house and then freeze.
It is part of a winter storm that is expected to bring blizzard-like conditions from New York City to Boston this week.
More than half a metre of snow is expected in some areas.
The mayor of New York has called on people to stay indoors to stay safe.