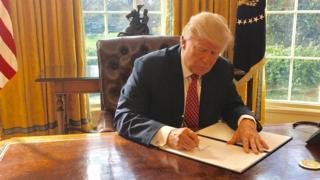 Twitter
President Donald Trump has signed a new executive order putting a temporary ban on people, mainly from six Muslim countries, from entering America - despite his previous attempt being blocked by an American Judge.
What's in the new order?
People from Iran, Libya, Syria, Somalia, Sudan and Yemen, six of the countries on

the original order from January

, are again put on a 90-day travel ban.

Iraq has been taken off the list after it agreed to conditions from the US government.

All refugees are banned for 120 days.

But the indefinite ban on Syrian refugees has been lifted.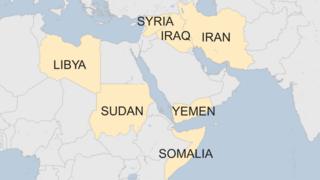 This new order is set to take effect on 16 March.
The previous order sparked confusion at airports and mass protests. President Trump claimed the order was to strengthen national security against terror threats.
You can read more about President Trump's US travel ban here.