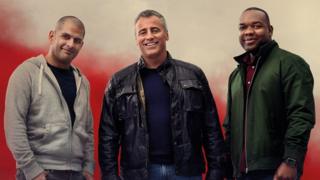 The latest series of Top Gear hit our TV screens on Sunday night, with a new presenter line-up.
It's returned without Chris Evans, who stepped down from the hit car show last year.
American actor Matt LeBlanc has taken centre stage, with Chris Harris and Rory Reid.
The trio went on a trip to Kazakhstan, where they had various challenges, and back here, they enjoyed a shiny new studio with celeb guest James McAvoy.
Many fans thought it was better than the last series, although some still felt it wasn't as good as the days of Jeremy Clarkson and co.

Thanks for your comments. This chat page is now closed.
"The new series is terrible. It has none of the humour Clarkson, Hammond and May brought to it. The new line-up made it a car show with humour when it should be a comedy with car stuff. The thing to change is the presenters. Bring back Clarkson, Hammond and May or just scrap the show."
Ben, 14, Glasgow