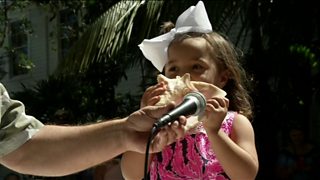 Top tooting in the conch shell contest
Things have been getting pretty noisy in Florida, in America.
Lots of people have been taking part in the 55th Annual Conch Shell Blowing Contest in Key West.
Contestants had to use their blowing power to trumpet on a big shell called a conch.
They were judged on the quality of the sound they made, and how long, loud and how funny the sounds were.
Steve Gibson and Jayne Challman were the winners, and gave some advice to future shell-blowers: "Just try and you will be successful".
Blowing into the sea mollusc's shell is a centuries-old way of signalling for people in Florida Keys.