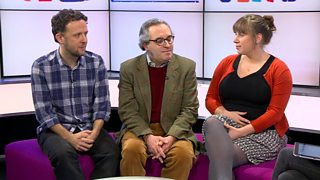 Authors react to Blue Peter Book Award win
The winners of this year's Blue Peter Book Awards have been telling Newsround how it feels to win.
Podkin One-Ear by Kieran Larwood won the Best Story prize and David Long's Survivors has been named Best Book with Facts.
Watch Jenny's interview with both authors and Survivors illustrator Kerry Hyndman.
The winners were chosen by more than 400 children from 12 schools across the UK.