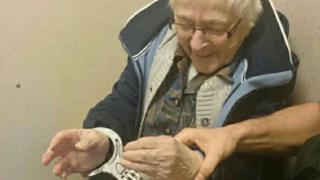 Politie Nijmegen-Zuid/Facebook
Meet Annie. She's 99 and spent some time in a police cell.
Don't worry, she didn't do anything wrong. She actually wanted to be there!
Police officers in Nijmegen Zuid in the Netherlands were happy to help Annie complete one of the wishes on her "bucket list" - a list of things she's always wanted to do.
The idea came from Annie's family and Annie was delighted!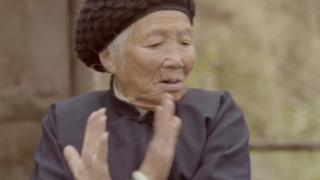 And she's not the only grandma who's been in the news...
Zhang Hexian is a 94-year-old who lives in Zhejiang, China, and she's recently become an internet sensation as a kung fu grandma!
She does everything by herself, including collecting firewood from the forest behind her house and practising kung fu to stay active and healthy.
Zhang wants the kung fu tradition to be remembered and asks her grandchildren not to glue themselves to their phones all day without doing some exercise!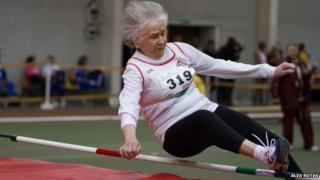 Alex Rotas
We think Olga Kotelko would agree.
She's a 97-year-old athletics champion with more than 30 world records to her name.
The teacher from Canada entered her first competition when she was 77-years-old and has won more than 750 gold medals.
And it's not just sport that you can take up at any age...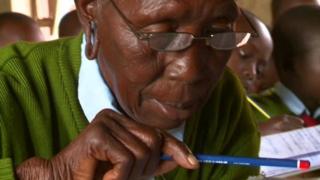 In Kenya in 2015, Priscilla Sitienei started going to school for the first time in her life at the age of 90.
She couldn't go when she was a child because her family didn't have enough money to send her to school.
Priscilla wanted to learn how to read and write and she didn't let her age matter!
Can you imagine going to class and having your grandma or even great-grandma sat next to you?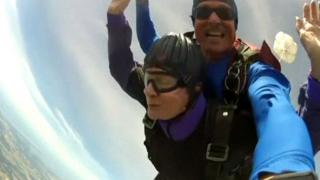 Other
Back in 2013, one grandmother from Alabama celebrated her 90th birthday in style with a skydive.
Marion Stangler wanted to do the jump for her 80th birthday, but said that something else came up!
After landing the jump safely, the American granny said "The free fall was the scariest part. I didn't think the parachute would ever open and when it did, I didn't even realise it."
What a great group of grandmas showing that they can do anything they put their minds to. Who knows what they'll get up to next?!