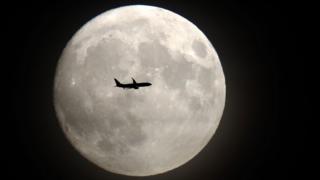 AFP/Getty Images
If you're planning your holidays, here's an idea for a destination with a difference.
The private American aerospace company SpaceX says two tourists have paid a lot of money to be flown around the Moon next year!
If it goes ahead, it will be the first human trip to deep space in 45 years.
The craft will loop around the Moon - skimming the lunar surface but not actually landing - before returning to Earth a week later. That's a journey of around 300,000 miles.
So we want to know what you would pack for the very long journey to space.
This chat page is now closed. Thank you for your comments.
I would take a hot chocolate to keep warm, a Star Wars book to read on the way and a super jet pack to fly around the moon to look for aliens.
Devon, Shropshire, England
I would take my pillow to the moon!
Casey, Devon, England
I would take my family.
Ellie, Edinburgh, Scotland
I would take my phone and pillow.
Lottie, England
I will take my pet dog Lola.
Lily, Stoke-on-Trent, England
I would take my coat because it could get cold there!
Aoife, Ireland
I would take my phone to take photos.
Sameeha, London, England