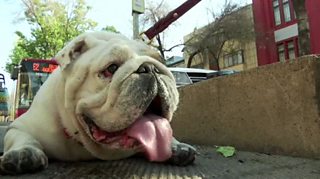 English bulldogs on the march in Mexico City
How many English Bulldogs does it take to set a world record?
No it's not a joke - it's a mission that Mexican lovers of the dog breed set out to achieve: a record Bulldog walk.
They got together almost 1,000 of the chunky dogs and marched around Mexico City. The organizer, Erick Hernandez, said that he'd never seen such a large gathering of this specific breed. They've got their tails crossed they'll get the seal of approval.
It's pretty hot in Mexico but don't worry - the owners fussed over their pets, rubbing them down with water and holding umbrellas over them to protect their delicate skin from the sun.
Check out our pant-tastic video!