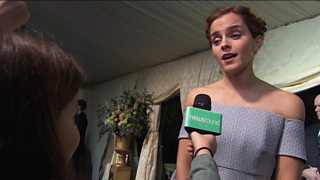 'Riding a horse in a ballgown was hard'
It was the premiere of new film Beauty and the Beast on 23 February and 10-year-old Emily went along for Newsround.
She got to meet the two big stars of the film, Emma Watson who plays Belle, and Dan Stevens who plays the Beast.
Emily asked some pretty interesting questions and Emma said she'd rather speak to her than everyone else!
Find out about special bloomers, dancing on stilts and much more!
Watch Emily's report here.
Pictures from Disney