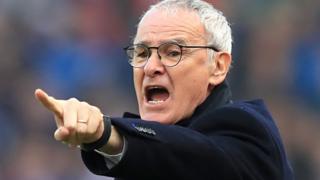 PA
Leicester City's manager, Claudio Ranieri, has been sacked just nine months after leading the football club to Premier League glory.
Despite last season's amazing result, this season hasn't been great - they've only won five out of their 25 Premier League games so far and are just one point above the relegation zone.
The club's vice-chairman said sacking Ranieri was the "most difficult decision" but "we are duty-bound to the club's long-term interests above all sense of personal sentiment".
Ranieri's last game in charge of Leicester was Wednesday night's 2-1 defeat to Sevilla in the last 16 of the Champions League.
But it was the team's poor performance in the Premier League that ultimately cost him his job.
Do you think it was fair Claudio Ranieri got sacked?
Should he have been given more time with Leicester City to try and turn things around? Or is it the right time for the team to get a new manager?
This chat page is now closed thanks for all your comments.
Your Comments
I don't think this is fair because he won the league in his first season at Leicester and he is a great and cheerful manager.
Ben, 10, Nottingham
I think it is unfair, after the miracle he did and what he's done for the club. However, his Premier League performance this year has been shocking. Better luck next time Ranieri. The next manager should be an ex-Premier League manager who didn't get relegated.
Oliver, 11, Lincolnshire
They shouldn't have got rid of him.
Eva, 7, West Sussex
I think it is a disgrace that Claudio Ranieri was sacked. I think that he definitely shouldn't have sacked him because he led a very low team to a Premier League title and made some amazing players like Jamie Vardy and Mahrez!!! Claudio should have made his own choice whether to leave or stay and when to do it!!!
Raffy, 11, London
No it's not fair that Ranieri has been sacked, he was a great manager for Leicester. He saved us from relegation last season and made us win the Premier League, however it's time we have a new manager as we, at the minute, are at the bottom of the league.
Ruby, 11, Leicester
It isn't fair for Ranieri to be sacked because he was the first manager to win the Premier League. If anything, I think the chairman should be sacked for making that decision. Ranieri was very successful in the Premier League and he should have seen what more he can do before sacking him.
Tom, 11, Coventry