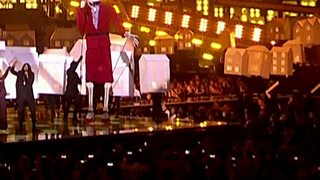 Katy Perry's dancer falls off stage
One of Katy Perry's dancers had an unfortunate fall at the Brit Awards on Wednesday evening.
Perry was performing her new song Chained To The Rhythm and was surrounded by dancers dressed as houses.
As the song got near the end, one of the dancers missed their footing and fell off the stage.
Luckily the dancer wasn't hurt during the fall.
Video courtesy of ITV/ BRIT Awards Limited.