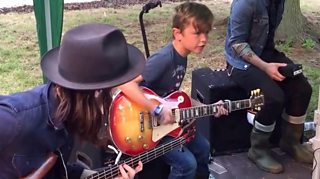 The boy who rejected Simon Cowell
Twelve-year-old musician Tom sent a message to Simon Cowell after he repeatedly got asked to go on Britain's Got Talent.
He put a note on Twitter to say: "Thanks for all your phone calls and your invitations to your TV talent show. Sorry if my first answer wasn't clear enough but I don't want to be in this competition."
Contestants in talent shows can apply directly to be on them, but sometimes people are approached by TV companies and encouraged to take part.
Britain's Got Talent said: "We travel the length and breadth of the country to find the best talent to make them aware of the show and auditions.
"We do then encourage acts to apply but any such acts will be required to audition on the same basis as any other applicant and normal programme rules apply."
So why did Tom turn down the chance to go on BGT? He's been telling Jenny.