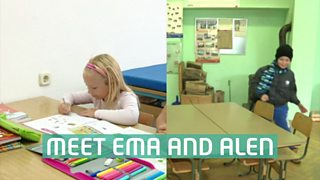 The schools with just one pupil
Could you imagine going to school and being the only child in the whole of your school?
Two children in Croatia do exactly that. Ema and Alen both go to school on their own.
They both live in remote areas away from big cities and have started writing to each other in their lessons.
Their teachers have even set up video calls for Ema and Alen and they've arranged to meet up with each other.
More pupils are expected to start at both Ema and Alen's schools in the future so hopefully they won't be alone too much longer.