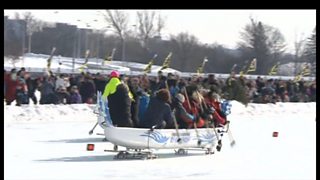 The ice dragon boat racing contest
Teams of people have been competing in an ice dragon boat contest in Canada.
It's the first time the sport has been held in the country, with 60 teams taking part.
It's based on the Chinese sport of dragon boat racing - but instead of taking place on water, it's on ice.
The game was invented so people from colder areas could still enjoy dragon boat races during the winter.