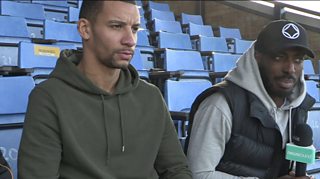 Sutton stars on Arsenal, music and breakfast
Non-league side Sutton United are taking on the Premier League heavyweights Arsenal in the FA Cup fifth round.
Monday evening's match will be the first time the two sides have ever met in a competitive match.
So how do the footballers prepare for a game like that? What do they eat and what sort of music do they listen to beforehand?
Some of the Sutton United under-13 girls' team get the answers from players Craig Eastmond and Roarie Deacon...