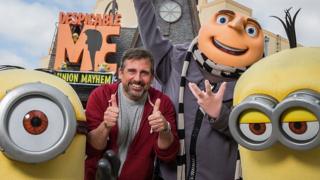 Getty Images
Despicable Me 3 is likely to be one of the biggest films this year.
Rumours are that this time Gru will battle against a former child star and get involved in a bit of sibling rivalry when he meets his long lost twin brother, Dru.
No doubt there'll be loads of Minion madness too!
Newsround is going to be chatting to the man who voices Gru - Steve Carell - and we want to know what questions you'd like us to ask him!
This page is now closed. Thanks for sending us your questions.