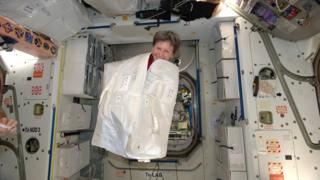 Peggy Whitson/Nasa
Peggy Whitson is the latest astronaut to play a prank on the International Space Station.
She managed to fit in this large cargo bag before getting fellow astronauts Shane Kimbrough and Thomas Pesquet to float her over to the Russian segment of the space station.
Peggy then popped out of the bag she was hiding in.
She said her Russian crew mates were quite surprised!
And it's not the first practical joke to be played on board the ISS. Last year astronaut Scott Kelly wore a gorilla suit!.