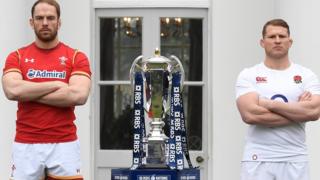 EPA
Wales' rugby team will face the defending champions, England, in Cardiff this afternoon, on the second weekend of the Six Nations tournament.
It will be the 130th time the Wales and England teams will have played each other.
In their 129 matches against each other since 1881, England have won 60, Wales have won 57 and there's been 12 draws.
We asked you to send in your predictions for the big game.
Wales will definitely win because we have the power of the dragon.
Daniel, Conwy, Wales
I think that England will definitely win.
Jessica, London, England
I will be supporting Wales because they are a really great team and I think they will win lots of points with Lee Halfpenny. Wales are the best!
Kayla, Swansea, Wales
I think that Wales is going to win because they have an amazing kicker Lee Halfpenny and he is sure to score lots of points for Wales.
Hannah, Trowbridge, England
This chat page is now closed. Thank you for your messages.