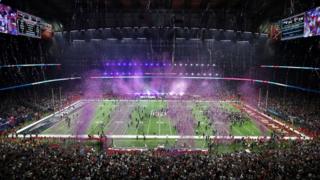 Getty Images
American football team the New England Patriots have won the Super Bowl.
The team were 25 points behind their rivals the Atlanta Falcons, when they made an epic comeback, going into overtime, to beat them 34-28.
Their win has been recorded as the greatest ever comeback in Super Bowl history.
Millions of people tuned in to watch the New England Patriots win for the fifth time.
The Super Bowl is one of the biggest sporting events in the world and there's even a concert halfway through it.
This year Lady Gaga sang during the famous half-time show.