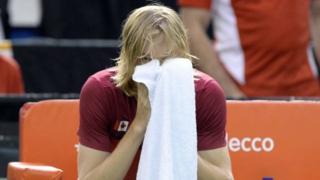 Tennis player hits umpire in eye
Great Britain are through to the Davis Cup quarter-finals, after a Canadian player accidentally hit the umpire with a tennis ball.
British player Kyle Edmund was beating Denis Shapovalov from Canada, when frustration got the better of him.
The 17-year-old Canadian whacked the tennis ball in anger, only to hit the umpire in the eye!
As a result the match could no longer continue, meaning Great Britain won by default.
Kyle will now go on to face off against France in April.
Shapovalov apologised to the umpire after the match, and his coach hopes he will learn a lesson from it.