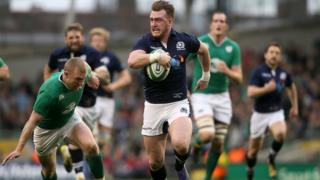 PA
The Six Nations rugby championship starts this weekend.
It's a huge rugby union tournament played every year between the top countries in Europe.
What is the Six Nations Championship?
The six countries who take part are England, Scotland, Wales, Ireland, France and Italy.
England won the tournament last year with a 'Grand Slam' - meaning they didn't lose a match the entire competition.
England's coach Eddie Jones has promised to try to do it again this year.
But we want to know who you guys think will win?

Thanks for taking part, the chat page is now closed. Here is a selection of your comments.
Your comments
I think that Scotland should win because they have been trying really hard and they deserve it.
Emma, 12, Glasgow
I think that Wales will win, because they're amazing at rugby. I think that George North will score many points.
Elin, 12, North Wales
Scotland are on the up and hopefully Vern Cotter will have a great final six nations.
Robbie, 11, Glasgow
I want England to win because they have really good players like Owen Farrell.
Jessica, 15, London
I think either England, Wales or Italy will win.
Mali, 11, Wales
The team I want to win is Scotland because they have Stuart Hogg, and he small and fast or Finn Russell because he is a all-rounder.
Aaron, 10, Scotland
I think England will win, because they are the best team there, and I am going to watch them in Cardiff.
Evan, 9, Ipswich
England will win the 6 nations - and my favourite player is Ben young as he plays for the team I support. The final will be England and Ireland.
Olivia, 12, Warwickshire
I think England or Ireland will battle it out, but England Will win.
Dan, 12, Sussex
I think Ireland will win because their team has been the best they have ever been!
Billy, 10, Sutton
You must ask your parent, teacher or guardian for permission before you send us a comment and a photo.
We may show your comment on our website or in our TV bulletins. We'll show your first name and which town you're from - but we won't use your details for anything else.