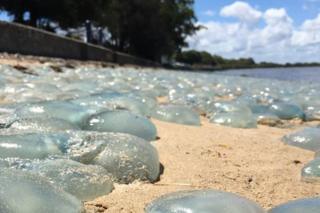 Charlotte Lawson
Thousands of jellyfish have washed up on a beach in Queensland in Australia.
The blue blubber jellyfish have completely covered the sand and surprised people who live nearby.
Charlotte Lawson took the pictures after noticing an unusual colour on the beach.
"When we got closer we realised it was jellyfish," she said. "It was like bubble wrap across the beach."
The blue blubber jellyfish is a common sight on the Australian east coast but is not normally seen in such big numbers.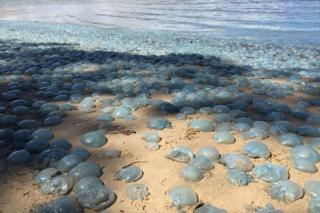 Charlotte Lawson
Smell "pretty rank"
Marine biologist, Dr Lisa-Ann Gershwin, said the unusual sight was probably caused by warmer water and an absence of predators. Wind and tide conditions may have also been factors.
According to locals the jellyfish had started to smell "pretty rank".