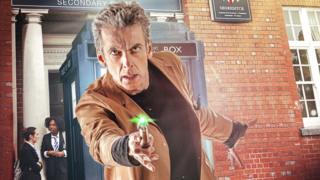 Sad news for fans of Peter Capaldi - he's leaving Doctor Who at the end of the year, it's been announced.
Speaking on BBC Radio 2, Peter said: "I feel it's time to move on."
The new series airs in spring and Capaldi said his final episode will be shown at Christmas.
The 58-year-old Glasgow-born star became the 12th actor to play the Doctor in 2013.
He's shared his adventures with Clara Oswald (Jenna Coleman) and Bill Potts (Pearl Mackie)
This chat page is now closed. Thank you for your comments.
He was a good doctor to be honest, however if you read the chronicles of Doctor Who and it states that there should have been only 12 regenerations. And so there can't be a new doctor. I am sad to see him go because he really made a impact on the Doctor Who series and I just don't think there should be anymore since this is the Doctor's last regeneration.
William, Sheffield, England
I think Martin Freeman should be the next doctor. He would be really good at it and he would be really funny.
Alice, Weymouth, England
I think the next actor to play the doctor should definitely be a man. My dad and I think it should be British actor Simon Pegg.
Joshua, United Kingdom
I would like to be the next doctor!
William, Okehampton, England
I agree that Peter made a good choice so he can move on to other things. I also think that next doctor should be a woman.
Sophie, Surrey, England