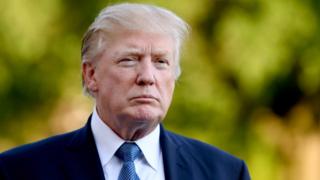 Getty Images
The top court in America, the US Supreme Court, has ruled President Donald Trump's travel ban can go into full effect.
This decision, in November 2017, is a boost for Mr Trump's policy against travellers from Chad, Iran, Libya, Somalia, Syria and Yemen - six mainly Muslim countries.
This moves comes after the court in June ruled that parts of Donald Trump's ban could go ahead.
The President's plan to ban people from certain countries coming into the US, has faced various legal challenges since it was first announced.
The White House first placed travel restrictions on: Iran, Libya, Syria, Yemen and Somalia.
The travel ban was then extended to include people from three more countries: North Korea, Venezuela and Chad.
This meant that visitors from Iran, Libya, Somalia, Sudan, Syria and Yemen would be barred from entering the US. It also put a 120-day ban on all refugees entering the country.
The White House said it wanted to expand the ban because of how information is shared between the countries' governments.
"Making America safe is my number one priority. We will not admit those into our country we cannot safely vet," Mr Trump said.
So what's the story behind the US travel ban?
Where did the travel ban come from?
On 27 January 2017, Donald Trump brought in a temporary travel ban which blocked people from seven countries from entering America.
It stopped nationals from Iran, Iraq, Libya, Somalia, Sudan, Syria and Yemen from being allowed to travel to America for 90 days. This included those who shared dual nationality with other countries, including the UK.
It also included a temporary ban on all refugees entering the US for 120 days. However, Syrian refugees were not to be allowed to travel to the country until further notice.
Syria is a country in the Middle East that has been greatly affected by violence and war. It has led to many ordinary people living there - including lots of children - needing to leave the country to try to find safety.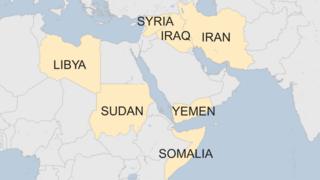 There was a lot of confusion about how the ban worked, but the UK government said only dual citizens travelling from one of the seven countries would be affected.
Mr Trump said the plans were about keeping America safe from terrorism and that it was not a ban against Muslims, but many people disagreed because the majority of people living in six of the countries on the list are Muslims.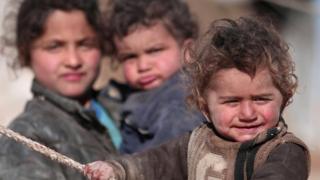 Reuters
He continued to support the ban, despite widespread protests against it.
Thousands gathered at airports around the US to protest against the ban, including lawyers who offered their services for free to help those affected. People also protested outside Mr Trump's home, the White House, in the capital Washington DC.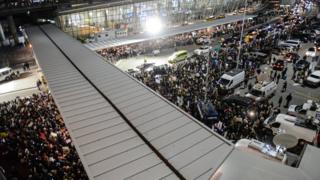 Getty Images
More than 1.5 million people also signed a UK petition calling to stop Mr Trump from making a state visit to the UK. A state visit is an important occasion which would include an invitation for Mr Trump to meet the Queen, so it is an honour to have one.
There was also another petition with more than 90,000 signatures saying that the state visit should be allowed to happen.
Why did he introduce a travel ban?
The US president made immigration a big issue in his election. The things he has said about migrants and refugees made him popular with his supporters.
Mr Trump said in January that his decision to introduce the ban was part of plans to keep radical terrorist groups out of the country.
In January, he tweeted that the US needed "extreme vetting, NOW". But later, in a statement, tried to offer more reassuring words, saying: "This is not about religion - this is about terror and keeping our country safe."
He sacked the US attorney general Sally Yates - an important job in law in America - after she questioned what he had done.
A spokesperson for UK Prime Minister Theresa May said she "did not agree" with the restrictions.
What has happened since it was introduced?
Since the ban was introduced, there have been legal challenges against it.
It was blocked by a judge, who said it could be "unconstitutional", which means it goes against the laws that the US is founded on.
But Donald Trump challenged this, saying that it does not break the law.
He has revised the ban since it was first introduced. Iraq was taken off the list after it agreed to conditions from the US government and the indefinite ban on Syrian refugees was lifted.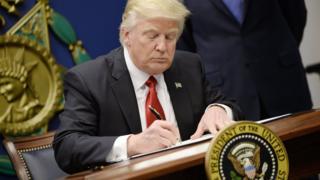 Getty Images
After legal challenges to the ban, In June 2017, the top court in America called the Supreme Court ruled that parts of Donald Trump's ban could go ahead.
Some versions of the ban have been slightly different to others.
One of the original criticisms of the ban was that the countries on it were majority-Muslim countries, so it was being called a "Muslim ban".
North Korea and Venezuela, which have now been added, are not majority-Muslim.
There have been appeals against the travel ban in local courts in other parts of the US, including San Francisco, California, and Richmond, Virginia.
Those courts will hear arguments about whether the latest version of the ban is lawful, and are expected to make decisions about them soon.
It's likely though that these cases will eventually end up back in the Supreme Court.