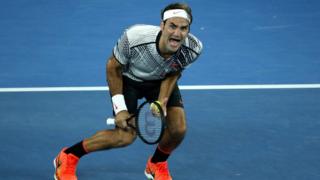 EPA
Roger Federer has won his 18th Grand Slam title with a thrilling five-set victory over Rafael Nadal in the men's Australian Open final.
It's the first major title for Federer in five years, something many thought he might not achieve again after struggling with injuries. Federer's last major trophy came at Wimbledon in 2012.
The scoring went 6-4 3-6 6-1 3-6 6-3 for the 35-year-old Swiss.
It's also the fifth time he has won the Australian Open, and extends his lead at the top of the all-time men's major winners' list.
Federer becomes the first man in history to win five or more titles at three different Grand Slam events - five Australian Opens, five US Opens, seven Wimbledons.
Federer and Nadal have had an epic rivalry throughout their careers - Federer has now won 12 of their 35 matches and three of nine major finals.