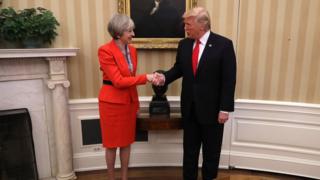 Getty Images
Prime Minister Theresa May met with US President Donald Trump yesterday just a week after he started the top job.
She is the first leader from another country to visit Mr Trump.
The pair spent about an hour together at the White House discussing the relationship between the UK and America.
It was also confirmed that the new American president will be coming to visit the UK, later this year.
The two leaders appeared to get on well, with May praising him for his "stunning" election victory.
While President Trump called Brexit - the UK's decision to leave the European Union - a "wonderful thing" and claimed he had predicted it would happen.
They even held hands at one point as they walked across the White House lawn.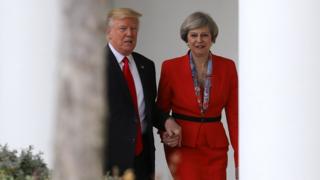 Getty Images
The pair talked about a trade deal - how the UK will buy and sell goods to the US after Brexit has happened - which is seen as important to the UK economy. Although Mr Trump spoke about a deal positively, nothing was confirmed.
Mr Trump also said that he 100% backed NATO.
NATO is an important international organization where the armies of various Western countries, including Britain and the United States, work together. It is seen by many people as important in helping keep peace around the world.
Getting America's backing for NATO is important for Theresa May.