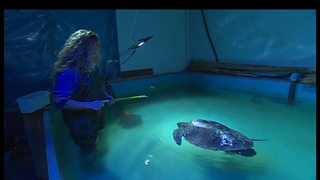 Rare turtle Menai recovering well
Menai the turtle was found washed up on a beach in Wales in November, and was rescued by wildlife experts in Anglesey.
Zoo staff are helping the rare sea turtle to recovery after it got a little bit lost last year.
Menai is an Olive Ridley turtle, which are usually found in much warmer waters around Mexico.
It's thought that Menai was knocked off course for thousands of miles by strong currents.
Vets are giving her lots of checks to make sure she is healthy and they say she is recovering well.