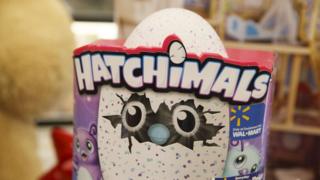 Bloomberg
YouTube star DanTDM is in trouble with the Fire Service after he posted a video on his channel in which he sets a Hatchimal toy on fire.
In the video, posted last week, the vlogger uses a small blowtorch to burn the toy. The clip has had more than 3 million views.
But, the London Fire Brigade have warned people that playing with fire is not a game and that the stunt was extremely dangerous.
They said, "This behaviour could easily have had severe consequences. The blowtorch could inflict severe burns instantly if handled carelessly and if hot melted plastic came into contact with a person's skin, it could literally stick to it, causing much more severe burns."
The Fire Brigade have asked DanTDM to remove the clip and "teach others about the dangers of fire instead of posting childish pranks."
The video is currently still up on his YouTube channel.
Hatchimals was one of the most popular toys for Christmas last year.