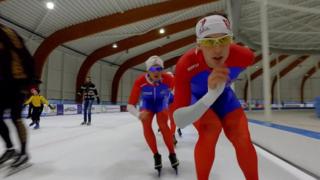 Check out the speedy sport of speed skating
How much do you know about long-track speed skating?
Well, it's an Olympic sport where competitors are timed while skating a certain distance.
Great Britain dominated the sport around a hundred years ago, but as time went on, the sport has almost died out here in the UK.
BBC reporter Mike Bushell has been finding out what happened to the sport, and why the Netherlands is the new home for speed skating!