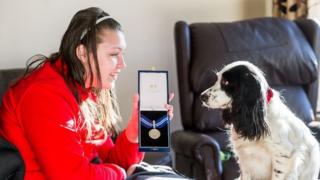 Devoted dog receives a special animal award
A Cocker spaniel has been given one of the highest awards an animal can receive, the PDSA Order of Merit for outstanding devotion and care of her disabled owner Lucy.
Lucy suffers from a rare painful disorder which sometimes means she can't leave her bed, but three year old Molly has changed her life.
She has learnt how to do tasks around the house including untying shoelaces, opening doors, fetching things and even helping with the washing.
Even more importantly she can tell if Lucy's temperature or blood pressure are too high and will lick her hand or arm as a warning.
What a dog!