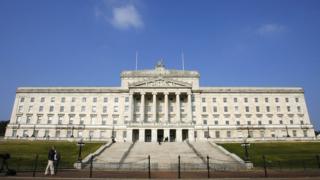 AFP/Getty Images
Northern Ireland has now had three years without a functioning government.
New talks between the political parties have started and it's hoped an agreement can be reached so that the government can start to work again.
The parties have until 13 January to reach an agreement or a new election could be called.
Newsround takes a look at exactly what happened and what this has meant for the country.
In Northern Ireland, the government's power must be shared between two different political parties. This is a result of something called the Good Friday Agreement, which came about to bring peace to Northern Ireland.
The First Minister and Deputy First Minister lead the government - one representing each of the two parties in power. Although they have different job titles, they basically have the same powers and must work together. Together, they are referred to as the Northern Ireland Executive.
But nearly three years ago there was a power-sharing argument between the two governing parties (the DUP - or Democratic Unionist Party - and Sinn Fein), which led to the government at Stormont being dissolved - and it has yet to form again.
The argument was about whether the First Minister Arlene Foster - the leader of the DUP - ran things badly or not.
The Deputy First Minister Martin McGuinness from Sinn Fein said she did and he left his job because of this disagreement, which reached a peak with an argument about a green energy scheme.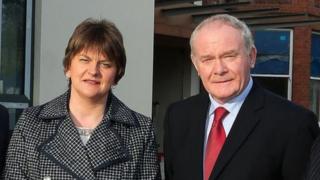 He had been deputy first minister since the DUP and Sinn Fein made a historic agreement to share power back in 2007.
When Mr McGuinness resigned, Sinn Fein refused to appoint anyone else to his job to replace him, which meant that new elections had to take place.
Under Northern Ireland's power-sharing agreement, Mrs Foster lost her role as first minister as a result of what happened. She said she was "disappointed" by his move.
Martin McGuiness passed away in March 2017 due to an illness.
Elections were held on 2 March 2017.
The DUP and Sinn Fein came out on top as the two largest parties in Northern Ireland, which meant they had to reach an agreement to form a new government. That has yet to happen - almost a year and a half later.
The two parties disagree on numerous issues - for example investigations into killings during the Troubles and a law to give official status to the Irish language.
One of the main problems facing Northern Ireland now is that there aren't any ministers in charge to make decisions about important issues that affect life for people in the country.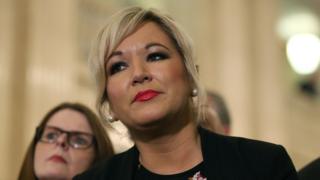 Press Association
Civil servants are trying to pick up ministers' work, but they aren't allowed to make certain decisions - only ministers can - and there aren't any ministers to make them!
Some of these major decisions involve hundreds of thousands or even millions of pounds of public money being spent - and Northern Ireland needs an executive to approve them.
Some people have been talking about the possibility of Westminster - the UK government based in London - stepping in and taking back some power in Northern Ireland, but so far the UK government has resisted calls to do this.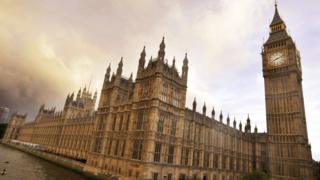 Press Association
Vice-president of Sinn Fein Mrs O'Neill has said: "I believe that the issues which caused the collapse of Stormont can be resolved with political will and mutual respect."
Many people are hoping that a deal can be reached before too long.