Nintendo has revealed lots of new details about its brand new console, the Nintendo Switch.
The new console will be released in the UK on 3 March and will cost UK gamers £279.99.
There are more than 80 games currently being developed for the console, but big names like Super Mario and The Legend of Zelda have been confirmed.
In October 2016, we got our first proper look at the console, and we compared it to some of the other top consoles available.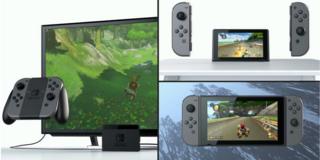 Nintendo
So what's so special about it?
The console was previously code-named the NX and was top-secret for a long time.
The Switch works as both a home console and a handheld device, like a DS.
It also has control panels on the side, which can be slid off to play in a similar style to the Wii remotes, using movement.
However not everyone is a fan of the new console, some people are saying it is too expensive, and others think it won't be as good quality as some of the other consoles available.