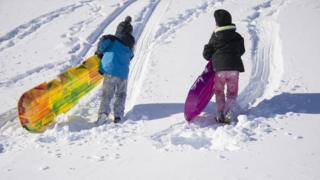 Getty Images
It's World Snow Day today, and a chance to celebrate all things snowy!
Austria, Canada, France, Iceland, Latvia, Norway, Poland and Sweden are all expected to get involved, to get lots of people celebrating snow around the world at the same time.
We want to know what your favourite favourite thing to do in the snow is!

Umama, 10, Stoke on Trent
You can have lots of fun as you can build snowmen and make snow angels and go sledging on hills which is really fun.
Jess, 9, Norfolk
I find snow really cool because I love making snowmen and having snowball fights.
Zachary, 10, London
You can be creative with it and make some fun stuff.
Ren, 10, London
I love the snow because the landscapes look amazing in the park!
Martha, 8, London
I love having snowball fights because you can get snow all down your back.
Hope, Aberfeldy
I think snow is really cool as you can make snowmen. my favourite thing to do when it's snowing is to go sledging. I also like snow as sometimes the school is closed.
Ross, 9, Scotland
You can have fun in it.
Thank you for all your comments! This chat page is now closed.