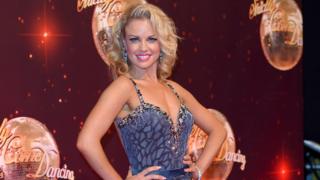 Getty Images
Nearly a month after waltzing her way to victory with Ore in Strictly Come Dancing, Joanne Clifton is swapping the ballroom for the stage.
More than 13 million people watched Joanne and Ore lifting the glitterball trophy just before Christmas, when she beat her brother Kevin in the final.
Rather than relaxing after her success, Joanne has been busy in rehearsals getting ready to take the lead as a New York dancer in the musical 'Thoroughly Modern Millie'.
Joanne said that performing in a musical has been a dream since childhood, but she'll have to get used to acting and signing as well as dancing!
Luckily, she's got a bit in common with the character, Millie.
Millie moves to New York to follow her dreams, which Joanne says reminds her of how she moved to Italy when she was 16, to join a dance school.
Joanne was cast in the musical last summer, but was late joining rehearsals because of being busy competing with Ore.
She's hoping to return to Strictly to defend her title later this year.