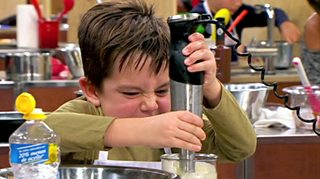 Junior Masterchef mishap
Nine-year-old British boy Oscar was competing in the Spanish version of Junior Masterchef when it started to go wrong...
He got pretty upset when his fish and chip dish didn't go swimmingly.
But it wasn't all bad news for Oscar, who speaks Spanish after moving with his family to live in the country.
After being on the show, he was invited to cook for the British ambassador to Spain!
Check out the video to see his kitchen nightmare.