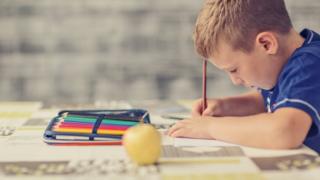 iStock
What type of homework would you set? This week Newsround is investigating homework and we asked your thoughts.
Some schools choose to give children homework like playing outside or making cakes while others choose to give children none at all.
If you could set your own homework, what would it be?
Thank you for your comments, this page is now closed.
Your comments
I would set homework that is fun but also uses a range of school lessons.
Olena, 11, Oxford
I think teachers should set their pupils a topic-related project every two or three weeks which is fun, a bit challenging and flexible, so that every pupil is able to complete it.
Claudia, 11, Tunbridge Wells
Homework should have options. It should become more complex when you go up in grades but should still be fun. More Art homework should be given and more quizzes for revision. Homework should be able to be submitted online.
Instead of little pieces of homework there should just be one big project every month or so. Homework should only benefit learning instead of just giving homework for homework sake. Teachers should be aware of what other teachers give for homework so that they can balance the homework.
Homework should not take too long. No homework on the weekend so you can spend time socializing and being with family. One piece of homework per subject in one week. Weeks should be balanced and should go in a rotation—one week is Maths, then English, then Science, then other.
Year 7, Cheshunt
Our class think that traditional homework is not necessary, we carried out our own class debate and read all your evidence as well as finding our own. We are preparing our own list of possible homework challenges and are going to present this to our school at assembly. We enjoyed having a debate and found it lots of fun to share our ideas with each other.
Class P6/5, Cumbernauld, Scotland
I would set fun science experiments or fun educational activities to do on the computer or tablet. I would also set maths puzzles so children can do it as if it was for fun.
Ren, 10, London
No homework or... two pieces per fortnight, a project every term, fun and challenging tasks, creative tasks, learn spellings, video yourself playing a sport, write a story very week, quizzes.
Class 7EG, Oxfordshire
I think that one to two pieces of homework a week should be enough as we work 5 hours at school and it's taking too much time. I think there should be extra credit homework of your choice for the people that want to but don't have too.
Mia, 11, Hampshire
I think we should have two pieces of homework a week.
Louis, 12, New Milton
I would set two pages of homework with a mixture of things we had learnt in the classroom.
Grace, 10, England
I would set a homework task on making cookies shaped like planets in the solar system.
Jonathan, Exeter
Yes I would give my children fun stuff like baking cakes 🎂
Jonty, 9, Rutland