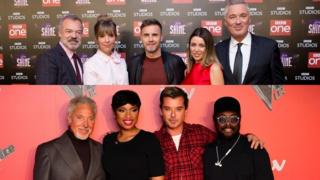 PA
Strictly and X Factor have finished but don't be sad, it's time for two different shows to dominate our screens on Saturday night.
This weekend, ITV becomes the new home for the singing contest The Voice.
And the BBC are launching a new singing show called Let It Shine, which sees Gary Barlow leading the search for the cast of a Take That musical.
We wanted to know if you'll be sitting down to watch some Saturday night television and if you are, which one will you be watching....

You must ask your parent, teacher or guardian for permission before you send us a comment and a photo.
We may show your comment on our website or in our TV bulletins. We'll show your first name and which town you're from - but we won't use your details for anything else.
Thanks for your comments, this page is now closed.
Your Comments
I will be watching Let It Shine because The Voice is a little boring and old
Gracie, Sheffield
I think I'll be watching The Voice because it's been on longer and some of The Voice winners turned into successful singers.
Rosie, Surrey
I will be watching let it shine because my mum went to watch it be filmed.
Katie, Cheshire