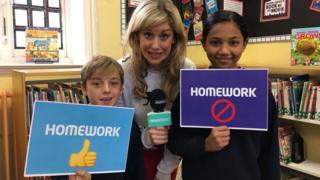 Should you have more, less or none at all? This week Newsround is investigating homework and we asked your thoughts.
Homework is given out in more than 90% of primary schools in the UK, but for a hundred years experts have been trying to decide whether or not it's a good thing for you do it.
Some people think homework puts too much pressure on you. They say research suggests that homework in primary school isn't helpful for students.
But others say homework is an important part of you learning how to work on your own and gives you time to practice what you've learnt in the classroom.
Thank you for your comments. This page is now closed.
We need more home work. We do not have much. It would be better for our education when we are older.
Madeine, 10, Corfe Mullen
I think homework is really good for your learning because it will help you get a good job in the future.
Reuben, 6, Hayle
I think that it prepares you for the homework you get at secondary school, but I still think that it is a waste of time, and it should be banned.
Josephine, 11, Derbyshire
I think some homework we need and some we don't. I don't get too much but my sister gets a lot more than me and I'm older. We should only get homework during the week not at the weekend.
Iona, 12, Edinburgh
I think homework is important as it gets you ready for when you leave school.
Hope, 16, Aberfeldy
I think that homework is good when it is something that the teachers have explained to you. It helps to remember what you have learned in class.
Amelie, 8, Somerset
I want more homework on the weekends because it gets you ready for secondary school. It helps you to learn.
Jaymie, 10, Wales
I think it's great, you're finding out new information and learning at the same time, and if you're using a laptop or reading a book you are practising skills as well.
Callum, 10, Shropshire
I would change homework by giving less out because when students get a load of homework they sometimes can't get all of it done on time.
Jessica, 15, London
I think that homework should be given out but I think it should only be 2 sheets or something and only take 5 minutes a week to do it .
Grace, 10, England
I think homework should be banned because I want to enjoy my free time.
Darcy, 10, Bath
I think we should not have homework because sometimes when you're doing your homework you can get very stressed.
Edward, 9, Blackpool